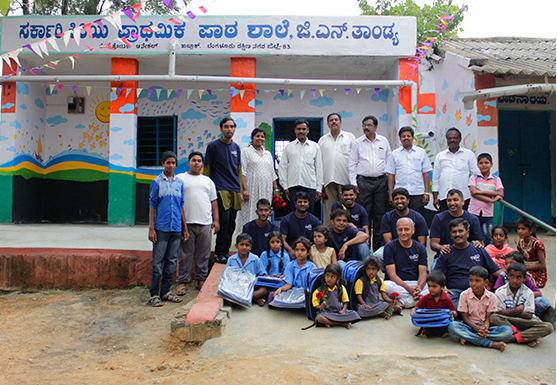 In 'BESUGE's charming aroma
Ruskin's words seem so true in this current world? By the time we are able to comprehend Ruskin's words; our minds are infested with Anger, rage, fraud and jealousy. Relations would have headed downhill. Just like realizing after the actual event, we start thinking, how our relations transpire to this low and slowly we start addressing the differences which have cropped up in the relations. In these situations 'Art' as a facet would certainly assist in cementing the differences is the strong feeling of all our artists.
With similar feelings, few artists of the Ken school of arts, Bengaluru year 2000 batch came together to strengthen the relationships of the society.
Ken school is like a temple which has donated many talented artists to this society. It's a proud feeling to even say few words about Ken school of arts, the artists who have come out of this institution in the earliest years have carried unique memories from their stay at this institution, starting from enjoying the lovely fragrances from the nearby flower markets to the strong smell emitting from the horse shack present in close vicinity of the school, from one by three tea to post office's canteen food, from hungry afternoons to motherly love of canteen Somanna. With all those gorgeous memories and with a great intension of bridging the gaps of the society the batch of 2000 artists have come together to form the platform called 'BESUGE' to carry forward the intended work.
'BESUGE' is a platform through which we are looking at art to join hands with other cultural streams to identify talented individuals and to provide a stage to those individuals to showcase their talents. Through 'BESUGE' we are looking to provide a guiding light by bonding together the talented individuals with established elders in their respective streams to spread the good to the society.
We have taken a lot from this holly land, with a purpose to return something good, we have started 'BESUGE'. To address the smaller nuances present in the society and take humble steps forward, we will come up with newer ideas and events in the coming days.